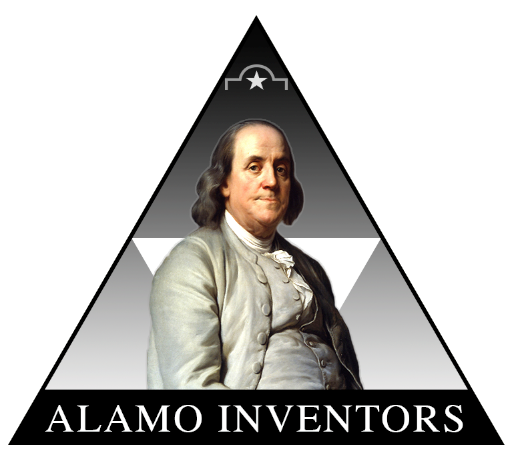 Alamo Inventors, San Antonio, Texas
Come and learn about inventing and how to take your idea to the next level.
Subscribe to Our Mailing List
Once a month, we have a meeting with a presentation about something invention related. Sometimes it's the creative part, like how someone came up with an idea. Sometimes it's the legal parts, like protection, patents, trademark, & licensing. Manufacturing comes up a lot, and so does marketing. We always enjoy our speakers, and we always learn from them. Questions are always encouraged, and our speakers share insights you can't get anywhere else. Before the meeting, you can visit with other inventors. New faces are always welcome, and if you have questions about invention or patents or marketing or ... there are usually members who can help guide you.
---
Meeting Date
Wednesday, Dec 13, 2023 (
Register Here
)
6PM CST, usually until 8PM or so. This meeting is online, on Zoom
Presentation: Restoring Patent Rights To Independent Inventors & Start-Ups
Guest Speaker: Paul Morinville
Paul Morinville, executive director and founder of US Inventor https://usinventor.org/ will speak on how the US Inventor is attempting to restore patent rights to independent inventors and start-ups through initiation and passage of two congressional bills, namely the Patent Eligibility Restoration Act of 2023 and the Promoting and Respecting Economically Vital American Leadership Act. Paul will explain how the acts will reverse the negative impact to independent inventors created by the America Invents Act (AIA) of 2011. Prior to the AIA, the United States used the first inventor to invent system which provided independent inventors and start-ups the crucial time needed to file quality patent applications and further, ensured that ownership of the resulting intellectual property remained in effect for the life of the patent.
However, after passage of the AIA, the US Patent System was changed to the first inventor to file system. This system created many significant disadvantages to the independent inventor and small start-ups one of which gave well funded companies the ability to file quickly and therefore, be first to file. Another extreme disadvantage is that the AIA created the Patent Trial and Appeal Board (PTAB) which again permits well funded companies the ability to fund expensive petitions to the PTAB in order to invalidate patents that interfere with meeting their goals. To date, approximately 84% of patents petitioned to the PTAB are invalidated!
Inventor and entrepreneur Paul Morinville's aspirations of achieving both the inventor's dream and the American Dream were cut short by the AIA through establishment of the PTAB, aka the "Patent Death Squad." Since October 2013, he has been advocating for inventor rights and restoration the U.S. Patent System to protect inventors.
US Inventor, a 501(c)(4) non-profit corporation, was founded by Paul on March 17, 2015, with a primary focus of putting a stop to the AIA. Once accomplishing that formidable task, Paul realized there was further destruction of our once mighty patent system that needed to be fixed.
Guests are welcome.
---
Meeting
We usually meet on the 2nd Wednesday of the month.

Meeting Location
ONLINE unless otherwise indicated
Wednesday, December 13, 2023

2024 Meeting Dates
Wednesday, January 10
Wednesday, February 14
Wednesday, March 13
Wednesday, April 10
Wednesday, May 8
Wednesday, June 12
Wednesday, July 10
Wednesday, August 14
Wednesday, September 11
Wednesday, October 9
Wednesday, November 13
Wednesday, December 11

See the Meeting Archive

www.facebook.com/alamoinventors

How to Use the USPTO Patent Public Search Tool
Membership & Newsletter
Annual Dues are $25 individual, $95 corporate, students free.
Subscribe to the Newsletter for Meeting Notices
Or ...
Non Profit
Alamo Inventors, Inc is a 501(c)3 not for profit Texas corporation. Membership and donations are used to fund our modest operational costs.
Contact
Alamo Inventors
invent@alamoinventors.org
Inventor Questions?
George Burkhardt
gwburkhardt@gmail.com
210.240.5011 or 210.649.2080
Membership Form (pdf)